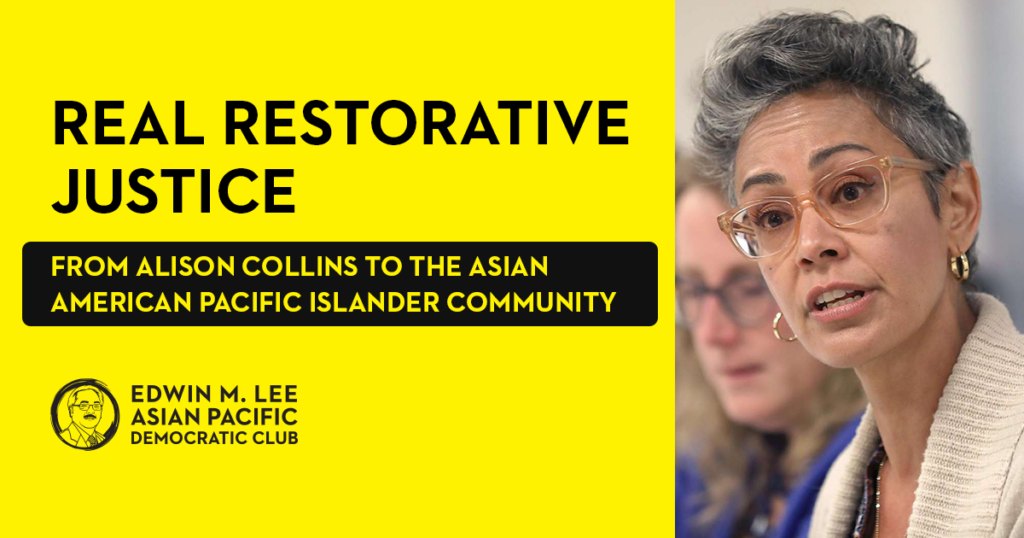 By Mike Chen, Ed Lee Dems Board member
Asian American groups and political leaders united this past week in calling for Board of Education Commissioner Alison Collins's resignation for the harmful words that she wrote about the Asian American community. A few defenders have suggested using "restorative practices" to address and repair the harm that was caused.
Restorative justice requires Alison Collins to resign.
Restorative justice requires the perpetrator to identify the harm. Alison Collins has failed to identify and apologize for the harm. Alison Collins's statements have not made an unqualified apology for the harm that her words have caused. By claiming that her statements were taken out of context and making an apology to those who were offended, Commissioner Collins puts the burden of hurt & pain on those who were harmed. We do not accept her statement as an unqualified, remorseful apology.
Restorative justice requires the perpetrator to meet with the harmed parties. But we have learned that Commissioner Collins did not reach out to elected officials, and she refused to respond to entreaties and questions from fellow commissioners. Commissioner Collins's actions show a resistance to restorative justice practices.
Restorative justice requires the harmed parties to agree on how to repair the harm. The two AAPI Board of Education Commissioners, Jenny Lam and Faauuga Moliga, have stated that Commissioner Collins should resign to repair the harm. They are joined by an overwhelming majority of San Francisco's AAPI elected officials: Assemblymembers David Chiu & Phil Ting; Supervisors Connie Chan & Gordon Mar; City College Trustee Alan Wong, and BART Director Janice Li. They are also joined by the city's AAPI Democratic Clubs: the Rose Pak Democratic Club, the Edwin M. Lee Asian Pacific Democratic Club, and the Chinese American Democratic Club. Restorative justice must listen to the strong, united voices from the elected leaders and community groups that represent the AAPI community.
Restorative justice is maintained as an alternative to incarceration. We are not calling for Commissioner Collins to lose her freedom; we are calling for her to step down from the Board of Education as a step to repair the harm. Commissioner Collins has not acknowledged our pain, nor has she truly apologized, nor has she made meaningful outreach towards the AAPI electeds or organizations to address the harm that she caused.
We recognize that Alison Collins has done important work to combat anti-Black racism in our community. But her words have harmed and betrayed many individuals in the AAPI community. We would not accept Alison Collins's inflammatory words from our students or teachers. We should not accept this behavior from our elected officials. Because Commissioner Collins has lost the trust of many AAPI individuals, she is now uniquely unsuited to addressing anti-Black racism in the AAPI community and healing barriers between the Black and AAPI communities. Alison Collins's continued presence on the Board of Education harms our shared goals of racial equity in San Francisco's public schools.
We call on Commissioner Collins to reach out to & meet San Francisco's AAPI electeds and AAPI Democratic Clubs to truly listen and understand the pain that her words have inflicted on AAPI people.
We call on Commissioner Collins to acknowledge and make an unqualified apology for the harm that her words have caused.
We call on Commissioner Collins to resign so she has the time and space to truly do restorative practices in listening and taking action to repair harm.
We call on Commissioner Collins to resign so that another leader can continue her important work on combating anti-Black racism with the trust of the AAPI community.